The holiday season is known as a time for joy and celebration. But it's not uncommon to feel overwhelmed by expectations from family and friends. When it comes to feeling the dreaded holiday stress, sometimes the whimsical lights and cheerful singing aren't enough to overcome mental health challenges.
Below are a few reasons why you may not be in the holiday spirit this year, five ways to cope, and why mental health treatment may be the answer if you want to improve your mental health before the new year. Whether it's holiday stress or other problems impacting your mental health this time of year, don't hesitate to seek out a mental health professional.
What Causes Holiday Stress?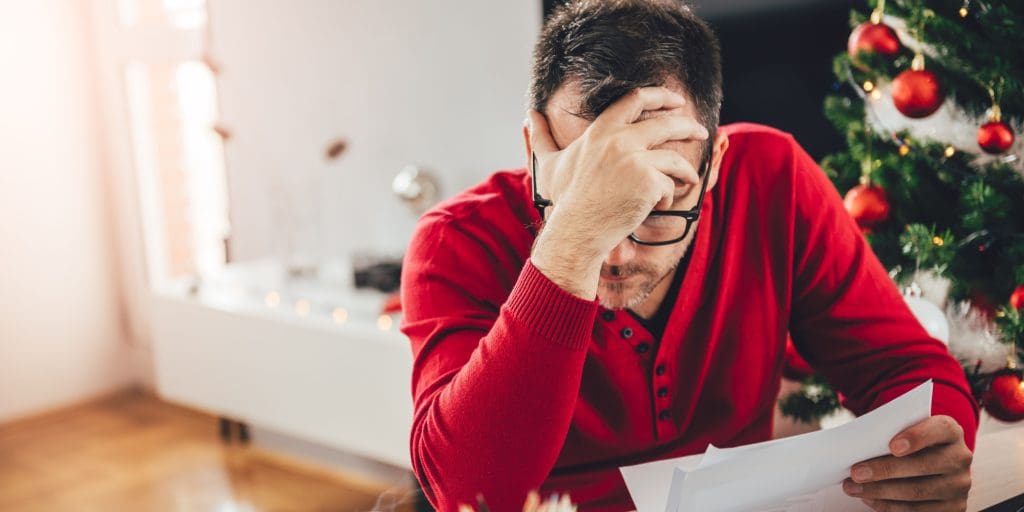 The holiday season is often stuffed with commitments and a seemingly endless list of tasks. You may try to make the most of the season by overcommitting yourself to seasonal activities, but it may be more beneficial to dial back your plans. Shopping, completing chores, back-to-back social events, and staying with relatives can be major stressors. Struggling with feelings of loneliness or a mental health disorder such as seasonal affective disorder (SAD) can make it more difficult to combat negative thoughts and feelings. Together, these factors can lead to holiday stress.
You may feel pressured to shut off difficult feelings to partake in the holiday cheer. However, this can worsen symptoms of anxiety and depression. When holiday stress starts interfering with your ability to work, maintain relationships, or function, it's time to seek help from a mental health professional. Don't wait until the holidays have passed and you've lost your spark.
Ways to Manage Holiday Stress and Mental Health
There are a variety of ways to manage holiday stress. Finding self-care practices that fit into your daily routine can reduce anxiety and prevent the risk of burnout. But if you find yourself struggling no matter what you do, consider seeking help from a mental health professional. Nobody wants to spend the holidays getting inpatient health, but it's important to make your wellbeing a priority. And if your seasonal stress feels out of control, it could be a sign of an underlying mental health problem that requires treatment.
But where should you start if you find yourself overwhelmed by holiday stress?
1. Plan Ahead
Making a plan for the holiday season can prevent you from overcommitting. Keeping a calendar or budgeting are two ways you can plan. Between coworkers, family, and friends, it's impossible to show up for everything. Allow yourself space to partake in a few meaningful experiences over the season rather than cramming everything into a few short weeks. Spreading yourself thin is a major contributor to holiday stress.
2. Have Realistic Expectations
The spirit of the season can cause you to feel unstoppable. But when it comes time to show up at grandma's house or finalize your purchase, you may realize you've taken on more than you can handle. It's okay to say no if you're overwhelmed, even if it means leaving some goals unfulfilled. Only take on what you have the time and energy for. 
3. Maintain Healthy Habits
Keeping your mind and body in good health can be difficult when holiday activities alter your daily routine. The holidays are known for disrupting healthy practices, but maintaining healthy habits will be the best way to reduce holiday stress. Self-care is different for everyone, but setting aside time for stress-relieving activities can help you enjoy the season more. Some activities to try include:
Deep breathing exercises
Reading a book
Watching a funny movie or show
Going for a walk or doing light exercises
Taking naps
Journaling
4. Stick to Your Boundaries
Saying no to friends and family may leave you feeling like Scrooge from A Christmas Carol, but it may be necessary to maintain your mental wellness. Setting boundaries is another form of self-care that can help you feel safe and respected. These guidelines or limits establish what you're comfortable with. Communicate these boundaries with those around you to maintain healthy relationships.
If you feel mentally depleted, taken advantage of, or disrespected by a friend or family member, it may be time to reassess your boundaries. Eliminating the risk of overextending yourself can prevent holiday stress, anger, hurt, resentment, and burnout. Sticking to your boundaries will improve your mental health any time of the year, but the holidays are a great time to practice what works for you.
5. Seek Professional Help
The pressure to provide a perfect holiday experience for your family can negatively impact your mental health. Attempting to reach impossible expectations can worsen symptoms of a pre-existing mental health disorder such as anxiety. This can also lead to increased drug and alcohol use or suicidal ideations.
Despite your best efforts to reduce stress, you may continue to feel overwhelmingly anxious. If find yourself unable to sleep at night, feeling hopeless or irritable, or experiencing physical pains, it's time to reach out for help. Symptoms of anxiety or depression that begin around the holidays can linger into the new year if they aren't addressed.
When Is It Time to Get Help for Holiday Stress?
Holiday stress can come and go as quickly as the season. But if you find yourself feeling worse as the days go by, it may be time to reach out to a mental health professional. Signs to look out for include feeling:
Irritable and angry
Overburdened and overwhelmed
Anxious or nervous
Unable to enjoy yourself
Neglected or lonely
An increased urge to use drugs or alcohol
Suicidal
Holiday stress can affect anyone, but studies show that women are more likely to take on an overwhelming mental load this time of the year. This is especially true for women under the age of 50 who have families. During the holidays, many women overburden themselves to do it all so their families get the most out of the holiday season. However, these high standards are unreachable and often lead to mental health problems. With that said, holidays can be a difficult time for single parents, children of dysfunctional families, those who are grieving, individuals struggling with addiction, and many others.
How Holiday Stress Can be Treated
Seeking help from a mental health professional may not have been on your holiday to-do list, but your mental health is important any time of the year. No matter what's causing your holiday stress this season, don't be afraid to reach out today. Mental health cannot wait for the new year, so taking a proactive approach to your well-being is likely the best thing for you.
Treatment options at our recovery center include:
Individual therapy
Support groups
Medication education and management
Adults enrolled in the adult mental health program will discover healthy coping mechanisms for effective long-term stress and anxiety management. These treatment methods will help you recognize and address stressors to help you better manage them. Adults in need of immediate care can also enroll in our emergency care crisis care services. These services provide comprehensive care that works to de-escalate patients in crisis to return them to a state of mind where they feel safe and in control.
Regardless of why you're seeking help at Port St. Lucie Hospital, our staff will help you recover.
Treat Holiday Stress and More at Port St. Lucie Hospital
Port St. Lucie Hospital provides a retreat-like environment that facilitates comfort and healing for patients overcoming addiction, stress, and depression. Moreover, our licensed professionals are experienced in a variety of disciplines to meet the unique needs of our patients.
For more information on how untreated holiday stress can impact your mental health and how our treatment center can help you this holiday season, reach out to our admissions office at 772-408-5871. You can also submit a confidential contact form online. Give yourself the gift of mental wellness this season by starting your recovery journey at Port St. Lucie Hospital today.